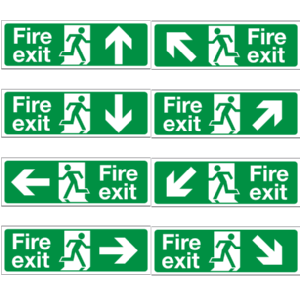 400mm x 150mm Fire Exit signs available in three materials.
Reccomended where viewing distance is likely to be between 8 and 15 metres.

Self adhexive vinyl for sticking direct to clean dry walls or any other suitable surface.
1mm Plastic for more difficult walls where an adhesive may be used.
1mm Photoluminescent to provide directional fire exit signage in the dark in the event of a power cut.